Glamping in Washington's winter wonderland
Leavenworth, Washington
Combining the comfort of home with the charm of wintertime celebrations, our wooden, mobile dwellings are the perfect getaway to Washington's most idyllic holiday town: Leavenworth. purposefully positioned on the outskirts of the village, enjoy festive activities that the region has to offer during the day while returning to the quiet and naturally immersive setting of our site at night.
Winter dates now available!
Location
Tucked away on the quiet side of Washington's most prized winter town, enjoy our private boutique mobile dwellings as a hideaway and charming, cozy resting-place after a day out exploring. The region is known for its wide variety of outdoor activities, some of which include hiking, birding, fishing, ice climbing, dog sledding, Nordic skiing, and snowshoeing. Leavenworth's charm of a Bavarian alpine village supplies travelers with the entertainment of breweries, restaurants, museums and shows.
Comfort
After a day out in Leavenworth town or skiing at Crystal Mountain, enjoy the comfort of our cozy, warm, and dry boutique mobile dwellings to relax in at the end of an eventful day. With outdoor amenities like a firepit and seating, you can enjoy your favorite hot chocolate fireside under the starry skies at night.
Sustainability
We know you seek experiences that allow you to step into nature in the most responsible and reverential way possible. Each dwelling contains robust solar power systems, compostable toilets, and thoughtful amenities that allow you to "leave no trace" in remote locations.
Dinette
Sleeps:
3 people
Arrangement:
1 queen & 1 single bed
Bunk
Sleeps:
4 people
Arrangement:
1 queen & 2 bunk beds
Essentials we offer:
Blankets, sheets, duvet covers
Personal & dish towels
2 pillows per person
Biodegradable dish soap
Biodegradable body wash
Paper towels
Waste and recycling
To make your stay more comfortable:
Electric hot water pot
Pour over coffee pot
Pots and pans
Plates, bowls, cups, mugs, cutlery
Spices and cooking oil
Superior ventilation
Electric heating (remember you will be off-the-grid)
First aid kit
Smoke and carbon monoxide alarm
Outdoor communal fire pit
Outdoor cookstove
+ When is check-in time?
Check-in time will be from 3:00 - 7:00pm. Please be sure to notify your host if you will be arriving later. Additional check-in details will be sent to you a few days before you begin your trip!
+ What is the role of the ROAM Beyond host on site?
Our host will be there to greet you and help you settle in! They will be available to answer any questions and offer advice on how to make the most of your trip. Your host will be available when needed, but will otherwise let you enjoy your private stay.
+ What amenities are included?
Here are some essentials we offer: blankets, sheets, duvet covers, personal & dish towels, 2 pillows per person, biodegradable dish soap & body wash, paper towels, and waste and recycling. To make your stay more comfortable, we've included: an electric hot water pot, pour over coffee pot, pots, pans, plates, bowls, cups, mugs, cutlery, spices, cooking oil, superior ventilation, electric heating (remember you will be off-the-grid), first aid kit, and smoke and carbon monoxide alarms.
+ Will firewood be provided?
Firewood is not provided, we recommend bringing one bundle per night to enjoy the firepit in the communal area and share in the campfire experience.
+ Will we be able to cook?
Yes! You will be able to on an outdoor cooking area and can enjoy your meal in a covered lounge and dining area.
+ What will the communal space look like?
Our communal space includes a firepit, comfy chairs, a hammock, and a shared dining area. Keep in mind the area is shared between all guests! We love when everyone gets to enjoy our cozy space together.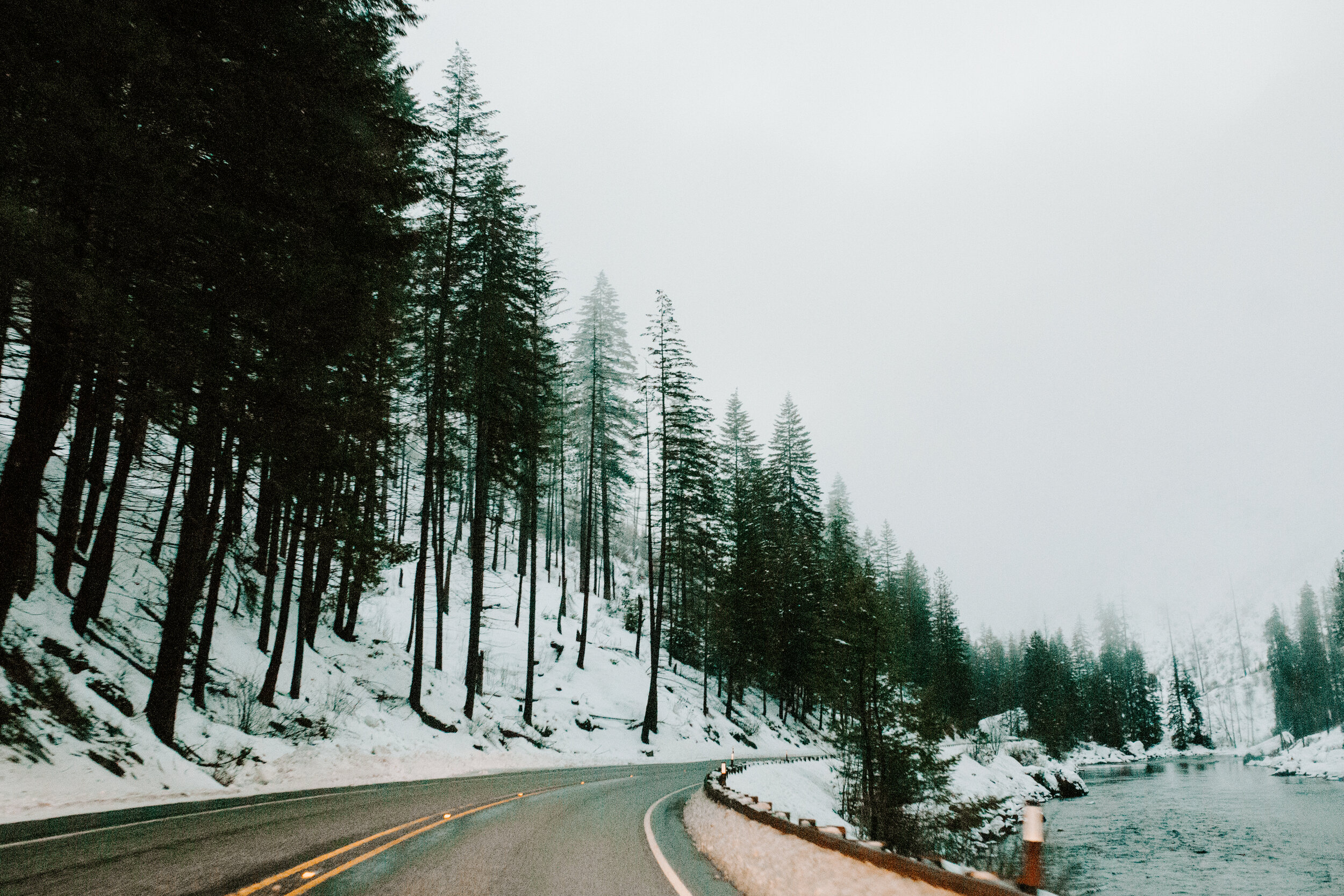 Leavenworth Village Activities
The town of Leavenworth provides endless entertainment all through the holiday months! Look forward to a weekly festival of lights as well as carriage & sleigh rides, reindeer farms, museums and plenty of options for winter feasting and drinking.
Skiing & Snowboarding
Leavenworth is conveniently located only about 30 miles between two of Washington's prized ski resorts: Steven Pass (with shuttles directly from town) and Mission Ridge. Looking for something closer to 'home'? You can find a Leavenworth's local ski hill about a mile up the road complete with rope tows, terrain park, and tubing
Winter Activities
There are endless options for winter activities in the vicinity of our site! Hiking, snowshoeing, cross country skiing, birding and more are all within walking distance or a short ride.
Interested in booking the whole site?
Interested in booking the whole site location for a special occasion or large group gathering? Contact us through the form below or email us directly at bookings@roambeyond.travel to learn more about availability and special pricing!